 Mac Mobile Medic
Serving the Macintosh community for over 35 years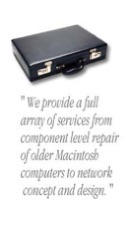 On-Site Consulting
Flat rate of $90 per hour
$50 diagnostic fee
$25 Expediting fee for priority service
$15 per additional after-hours
One hour minimum charge
In House Service
Flat Rate of $65 per hour
Free overnight shipping of parts
$50 diagnostic fee
$25 expediting fee for priority service
$15 per additional after-hour
One hour minimum charge
NO Delivery or pick-up charge
From Boston to Manchester
$1 Per Mile fee Boston South
$1 Per Mile fee Manchester North
Sales
Re-conditioned Macintosh and PC
New & Re-conditioned Monitors,
Printers, Hardware and
Peripherals
CD Media Conversion
Flat Rate $60 per GB
CD-DVD Duplication
$10 per DVD copy
$ 20 per Dual Layer DVD
24-hour turnaround for 10 or less CDs
NO Delivery or pick-up charge
From Boston to Manchester
$1 Per Mile fee Boston South
$1 Per Mile fee Manchester North
Some Flat Rate Service Fees Apply.
Please Inquire.
We provide a full array of services from component level repair of older Macintosh and PC to network concept and design.
Our services will enable you to reduce computer administrative overhead, and allow you to maximize the effectiveness of your Macintosh computers as business tools.
For those of you with out-of-warranty machines, replacement of individual failed components, not the entire module, will cut your repair costs dramatically.
Take a closer look at our services and solutions for your home, business and education. Setup, Installation, Diagnostics, Testing, Networking, File transfers, System back-up, Updates and CD duplication are a few of the many services available to you.
MacMobileMedic - Methuen, MA (978) 686-8000
Apple - Macintosh / PC Onsite Service, Repair and Consults
Macintosh - Windows Integration * Mac - PC Service and Repair * Home, Office and Institution
We Buy and Sell Used Mac's