 Mac Mobile Medic
Serving the Macintosh community for over 35 years

Our Mission
Our goal is to provide the best products and services to our clients. As Apple Solution Experts we retail Apple Macintosh computers and accessories for individuals and small- to medium-sized businesses. We strive to give you an edge over your competitors without the risk often involved in the purchase and use of cutting-edge technology.
Feel free to rely on us as your computing resource. This will allow you to concentrate on your business without having to expend valuable (and often costly) resources to maintain such an extensive knowledge base in-house.
MacMobileMedic works closely with its vendors to keep abreast of new products and services to effectively choose the best solutions for you and your company.
MacMobileMedic is a consulting and reseller company run by Wayne Coco, a trainer and consultant in the Massachusetts and New Hampshire area. An Apple consultant for thirty years, a member of the Apple Solution Experts, and an Apple Product Professional, Wayne continues to provide high quality instruction and consulting services on the Macintosh/PC/Linux platforms.
The philosophy of MacMobileMedic is to provide high quality technological support to all novices and Professionals alike. Different users have different needs and our support is tailored to each user's level and applications.
Are you a novice looking for a professional hand? A power user looking for specific tips and tricks? A senior entering the world of computers and the Internet for the first time? Good news, we've have your solution. Seniors will be especially delighted to find support tailored with their needs in mind.
Get more done, improve retention, stay on the cutting edge. Choose from our selection of services and product offerings, or contact us to assist your specific needs. You'll be impressed with the results!

Service, Repair and Consults
Apple Certified Technicians
Apple Solution Experts
Macintosh Support and Troubleshooting
Network Installation and Support
On-site service (Delivery, Setup
& Maintenance)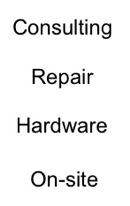 Apple - Macintosh / PC Onsite Service, Repair and Consults
Macintosh - Windows Integration * Mac - PC Service and Repair * Home, Office and Institution
MacMobileMedic - Methuen, MA (978) 686-8000
Apple - Macintosh / PC Onsite Service, Repair and Consults
Macintosh - Windows Integration * Mac - PC Service and Repair * Home, Office and Institution
We Buy and Sell Used Mac's